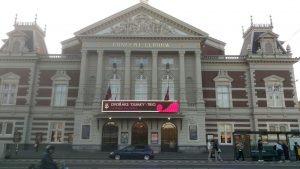 Good Morning Amsterdam & thank you for the wonderful publicity for our 3-concert residency at the Concertgebouw!
A wonderful first edit of the latest CD release arrived this week – look out for the trio's latest recording featuring Grieg and Dvorak scheduled for release in the new year on Nimbus!
Enjoy a taster of Trio Shaham Erez Wallfisch performing Arensky Piano Trio no. 1 live on Dutch TV here…or perhaps you prefer Brahms here or Schumann here – or sit back & enjoy all three!
OUT NOW: Brahms – Piano Trios & Double Concerto (2CD)
Sound samples are available on the Recordings page. Read the reviews on the Reviews page
Our next recording will be out this autumn (2017), stay tuned!